Information Security
Reditus' information security solutions aim to safeguard the valuable information of each organization, reducing the risk to the business and the exposure of privileged information to unauthorized internal and external entities. Reditus solutions support companies in the management of risks associated with loss of:
Confidentiality - ensuring that the information is accessible only to those who have authorized access;
Integrity - safeguard the accuracy and completeness of the information and the respective processing methods;
Availability - ensuring that authorized users have access to information and their support whenever necessary.
INFORMATION SECURITY SOLUTIONS
Solutions designed to protect critical business information from internal and external attacks:
Development and implementation of information security projects;
Management of security platform;
Audit;
Risk Assessment.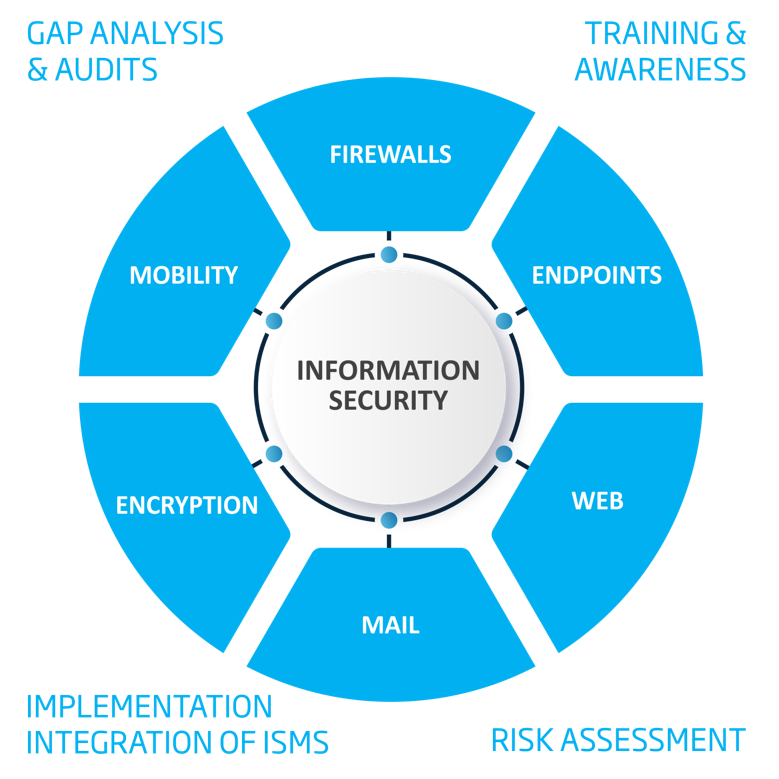 CONFIDENTIALITY AND INTEGRITY
Reditus' Information Security services address the safeguarding of information in all its supports (digital, paper, people, among others) and include:
Consulting Services
Information Security Management System - Design, Planning and Implementation of an ISMS according to the most current requirements.
Information Security Organization and Strategy - Design and development of information security policies and procedures.
Diagnosis of Information Security Risk - Design and development / integration of a diagnostic methodology for information security risk.
Audit Services
Information Security (oriented to processes and information technologies) - Global assessment of Information Security.
Process Security - Global assessment of security requirements in business and support processes.
Computer Security (communications, networks and systems) - Global assessment of security policies and mechanisms implemented at the level of communications, networks and systems.