Training and Personal Development
Reditus Business School is dedicated to the provision of Professional Training and Certification services, through the development of training solutions aimed at enriching professional skills.
Its action focuses on conducting high quality training activities. Reditus Business School offers specialized consultancy services to assess needs and correctly adapt training actions to your Organization:
Assessment
Customised training plans;
Training actions
Monitoring and evaluation of training results
TRAINING & PERSONAL DEVELOPMENT
Reditus Business School offers training solutions in various areas of knowledge and learning models, as well as different types of services.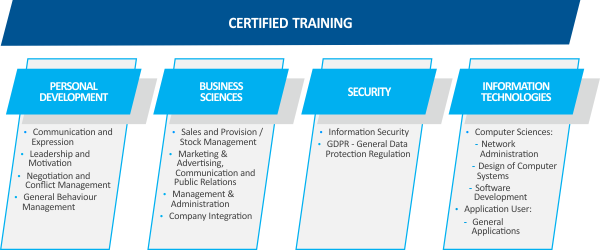 Training provided by Reditus Business School is geared to the Client and to obtaining results, through the following models:

Reditus Business School training adapts to the needs of customers, trainees and context, seeking to maximize its effectiveness. 

OUR TRAINERS
More than 230 Consultants and Trainers with extensive training and professional experience, real practice in the subjects they teach. Our trainers have:
Extensive professional experience in the management of training projects with technical and pedagogical skills to develop training programs and develop the necessary pedagogical materials, as well as to ensure the planning, execution, monitoring and evaluation of the training results.
Pedagogical training certificates (CAP or CCP)
Ability to manage and execute international projects in various geographic markets
Contact us to learn more about our solutions  marketing@reditus.pt